In recent years, I studied figurative painting at the Wackers Academy in Amsterdam and at Onderneming op Kunstgebied in Haren. Most of the work on this page was created during my training. I am currently working on a series of  paintings in which I explore the connection between people and their souls, seeking for that often elusive psychological depth. My paintings combine a classical oil technique with a contemporary touch. If you want to stay informed about new work, please follow my Instagram page. Originals can be viewed by appointment in my studio. News about an exhibition follows in the agenda.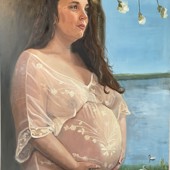 EXPECTING
Commission. Portrait of lovely, pregnant Liselotte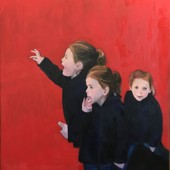 May I?
This painting I made for the art fair at my local town Driebergen, the Netherlands. At the bakery, a girl spots a cake in the showcase. Thrilled she reaches out, rubbing the glass with her fingers. But then she becomes aware of the other people in the store and shrinks against her grandmother's legs. De movement of the different emotions shows what we as adults often meet in ourselves: the inhibition of a spontaneous longing.
Black madonna
This is a portrait of my dear friend Shinta Oosterwaal posing as the Black Madonna, a deity who has appeared in some of my constellations. The Black Madonna brings healing and grace, clearing the negative residue of the most unspeakable crimes of humanity. She is a well known figure in Western religions.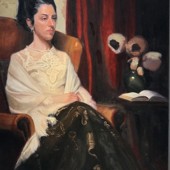 Frozen beauty
Iin a class led by Svetlana Tartakovska I painted this Spanish looking lady from live. She radiates an air of royalty, her clothing is rich. She seems to own the world, but I wonder if she's happy?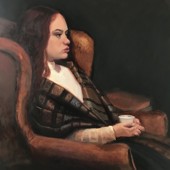 Girl with teacup
This painting I also made in class with Svetlana Tartakovska. The painting has a classical setting and colour palette, but I could still apply my contemporary touch. Svetlana's classes have helped my technique enormously!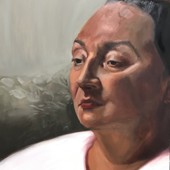 Portrait of a diva
I made this portrait in a class with Svetlana Tartakovska. It was quite a challenge, as the face is larger than life. But I love the outcome!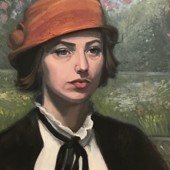 Maria by the pond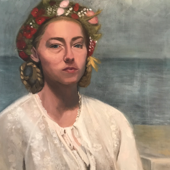 Study of a young woman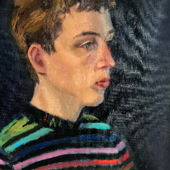 Study of a young dancer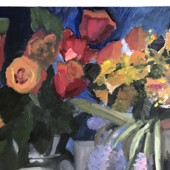 Flowers, oil on paper
This sketch in oilpxint I mad in class with Sam Drukker, whom I am eternally grateful for pushing me to look differently, to leave out details and summarise more.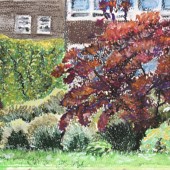 Courtyard garden in Amsterdam (Sold)
This drawing in oil pastel I made in an outdoor class by Jim Harris. At the end of the class he congratulated me. "Today you found something you will use as a foundation as an artist." At the time, I did not understand. But these days, I often remember his words, for he was right.