Letting go
To all appearances I had life very well sorted, a nice job with ditto prospects, a beautiful house and a flash lease car. However, from the age of eighteen, I had been struggling with chronic fatigue and I was troubled by a constantly nagging inner voice that life surely would have more to offer than this. Until a consultant told me I did not know who I was and that my chronic fatigue was a sign that my life was in need of a change of course. I started on a search for the answer to the question what I wanted to do with my life? The outcome was profoundedly life changing, as I ended my marriage, sold the house and quit my my job. I started to meditate, learned to perceive auras and even began to channel, to speak with entities in the energetic world. My old life of commerce and a career fell further and further away. When, together with my current husband Wim Bierman, I began to study healing at Barbara Brennan in the Unites States and started Soulstation, a consultancy for personal development in the corporate world, I believed I had found my path. But I remained chronically tired.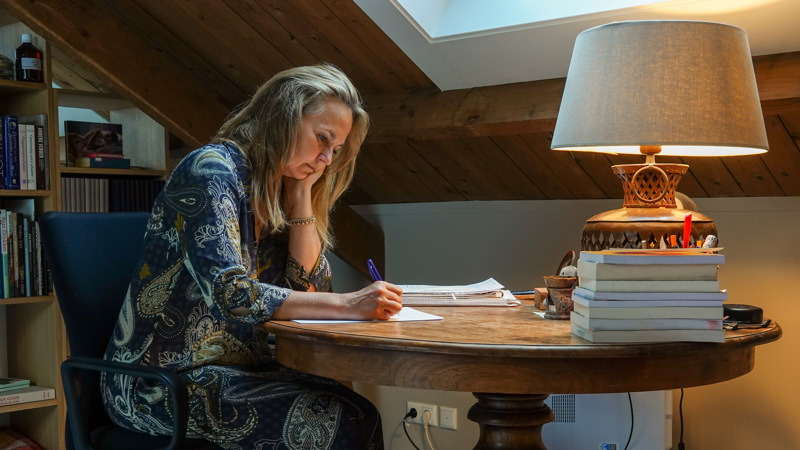 Search for healing
Driven by an intense desire to find a cure for my condition, I continued to explore the origins of illness and health. Since mainstream medicine couldn't help me (they couldn't find a physiological cause for my illness) I turned to complementary and alternative medicine. I read books, attended study programmes and experimented with treatment methods in the field of, among other things, psychotherapy, voice dialogue, healing, homeopathy, orthomolecular therapy, manual therapy, meditation, body work, raw food, detox and constellation therapy. I was my own guinea pig and learned by trial and error. My healing occurred in stages. An important breakthrough came in 2002 after treatment with snake venom, a homeopathic remedy which I took under the supervision of a naturopath. For the first time in twenty years I reached an energy level with which I could lead a reasonably normal life. But the real breakthrough came after my psyche released the first fragments of traumatic childhood memories.This event left me prostrate with the symptoms of Post-Traumatic Stress Disorder. One thing I knew for certain, I didn't want medication, I wanted to heal. After two years of intensive therapy, I regained what I now see was the first, still fragile beginning of a new balance. Then I finally started to write, something my guides had been advising me for years.
Shaman, writer, painter
Everything in our outer world originates in the energetic field. In order to heal our lives, it is necessary to address not only the physical world, but also the world of the soul. Like many other new age children, I was born with intuitive skills. I live in two worlds. If a problem occurs in my earthly world, I can usually solve it in the energetic world. My passion is to share this phenomenon with people and to show them the connection between the energetic reality and our earthly existence, in words and in images. In this way I contribute to restoring the old knowledge that was destroyed and ridiculed by our Western society, but which has been preserved in ancient cultures and in the energetic field. You can read my story in the trilogy 'Letters of my Soul' and in my 'Musings' on this site. I also give lectures and post graduate training for therapists.